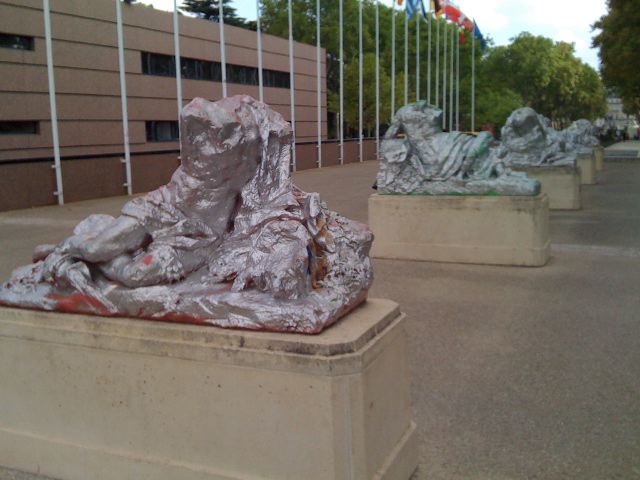 courtesy of purple-diary.com I don't know what I think of the silver sculptures except for they are severe. What do you think?
Dear Allan McCollum
A very interesting art student I know, I'll call him Giro, who is also a graffiti artist, uses silver paint, mostly in a monochrome style that is uniquely his own. He's a funny, creative, extremely precise, and nervy artist, and not someone who is prone to any sort of aggression. As a tagger he's painted a number of gallery façades — entire façades, elegantly resurfaced in silver spray paint. One gallery owner caught him in the act, asked if he was the guy painting silver façades. Giro said yes, and the gallery owner told him to continue.
One of Giro's adventures was to repaint a year or so ago, all in silver, your variously colored sculptures shown at the Corum esplanade in Montpellier. He painted them during the day, setting up a barrier all around them, pretending to be a professional doing his job. He didn't film the event. And, as a great admirer of your work, he chose your sculptures, shown in a public space — as easily tagged with names as in silver monochrome — out of inspiration, not assassination. Though the alteration is visibly drastic, the intent is artistic, not just from a tagger's point of view but from an artist-cum-tagger's point of view. A lot of public reaction even turned out to be positive.
We'd like to know what you think, and also if might accept his intervention as a positive reaction to your art — in which case Giro might be absolved from judicial judgment as well as the cheap superhero pseudonym I've given him.
Thank you.