April 2005
The Yale University School of Art is pleased to announce that artist ALLAN McCOLLUM will be delivering an informal lecture on his work to the Graduate Sculpture department.

Wednesday, 27 April
10:30 AM

Hammond Hall
Conference Room
14 Mansfield Street
New Haven, CT 06511

Allan McCollum was born in Los Angeles, California in 1944, and now lives and works in New York. He has spent over thirty-five years exploring how objects achieve public and personal meaning in a world constituted in mass production, focusing most recently on collaborations with small community historical society museums in different parts of the world. His first solo exhibition was in 1971, and his first New York showing was in an exhibition at the Sidney Janis Gallery in 1972. He moved to New York in 1975, and in the late seventies he became especially well known for his series, Surrogate Paintings.

McCollum has had over 100 solo exhibitions, including retrospectives at the Musée d'Art Moderne, Villeneuve d'Ascq, Lille, France (1998); the Sprengel Museum, Hannover, Germany (1995-96); the Serpentine Gallery, London (1990); the Rooseum Center for Contemporary Art, Malmö, Sweden (1990); IVAM Centre del Carme, Valencia, Spain (1990); Stedelijk Van Abbemuseum, Eindhoven, The Netherlands (1989), and Portikus, Frankfurt, Germany (1988). He has produced public art projects in the United States and Europe, and his works are held in nearly seventy major art museum collections worldwide.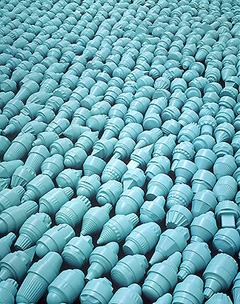 Allan McCollum.
Over Ten Thousand Individual Works. (detail)
Enamel on cast Hydrocal. 1987/88.

For more images see: ALBUM
For texts on the artist's work see: TEXTS
For recent projects by thge artist see: RECENT PROJECTS
For the artist's full biography see: ARTIST BIOGRAPHY
For website on the artist see: ARTIST WEBSITE