Living with Duchamp
June 27 – September 28, 2003
Malloy Wing Galleries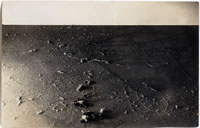 Elevage de Poussiere (Dust Breeding), 1920
Photograph by Man Ray and Marcel Duchamp,
2 1/4 x 4 1/2 in.
On extended loan to the Tang Teaching Museum from a private collection
© 2003 Artists Rights Society (ARS), New York / ADAGP, Paris /
Estate of Marcel Duchamp

Marcel Duchamp remains arguably the most important voice in visual art of the last century. His influence is expansive across artists in a variety of disciplines, including makers and thinkers alike. His ideas about what art can be, and how art can function in the world continue to be revolutionary and hotly debated. This exhibition takes part of its inspiration from Duchamp's ground-breaking installation designs for the International Exposition of Surrealism at the Galerie Beaux Arts, Paris in 1938 and First Papers of Surrealism at the Whitelaw Reid Mansion, New York in 1942, both of which saw the artist - as curator - radically changing the exhibition environment. This project, including its own inventive installation will offer a creative take on the artist's specific influences on generations of artists whose artwork builds on Duchamp's ideas.

Duchamp reveled in wordplay and resisted definition. Throughout his career, giving up one manner of working in favor of another. Among his many revolutionary positions, he was the first to take an object from its everyday use and transform it into an artwork solely by changing its context. These became known as readymades and within this exhibition the notion of the readymade in all its varieties will be addressed and categorized. Different terms such as assisted readymade, appropriation, imitated rectified readymade, rectified readymade, semi-readymade, replica, and assemblage will all be "defined" in an effort to cite different lineages of Duchamp's artistic heirs. Works by these artists will be shown alongside an impressive selection of original works by Duchamp.

The handmade is often seen as contradictory to Duchamp's notion of artmaking. To confound this assumption, many of the artists included in this exhibition make painstakingly crafted copies of everyday objects and other artwork. These artists will be represented by several examples each of their "handmade readymades" including paintings, sculpture, photographs, prints, and in one case an interactive store where viewers can purchase works in the gallery via catalogue order. In addition to the notion of the handmade many of these works show these artists to be engaged in clever wordplay and surreal combinations of mundane objects towards thought-provoking ends. Groups of works by appropriation artists Richard Pettibone and Elaine Sturtevant will be on view, as well as artwork from the 1980s by Sherrie Levine, Hans Peter Feldmann, Fischli and Weiss, Nayland Blake, Robert Gober, Rosemarie Trockel, Jeff Koons, Jana Sterbak, and Allan McCollum. Works from the 1990's will include artists such as Jonathan Seliger, George Stoll, Haim Steinbach, Jonathan Santlofer, Stephen Dean, Josiah McIlheney, Matthew Antezzo, Conrad Bakker, Dan Fischer, and others.

Organized by Ian Berry, Curator at the Tang Museum with Gretchen Wagner, Curatorial Assistant at the Tang.