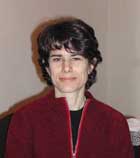 Nancy Princenthal
Council of the Humanities and Visual Arts
Princeton University
Nancy Princenthal
Nancy Princenthal is a noted American critic who has been a contributing editor for Art in America magazine since 1985. During this time, she has written numerous feature articles on artists, including Vito Acconci , Janine Antoni, David Hammonds and Matthew Ritchie.
Princenthal also is a contributing editor to Art on Paper and the editorial adviser and a regular contributor to Art/Text. Her articles have appeared in Artforum, Parkett, The New York Times, The Village Voice, Art News, and Vogue. Princenthal has contributed to countless books and catalogues, and she has a regular column in the Print Collector's Newsletter on artists' books. She has written extensively on contemporary artists, among them Vija Celmins and Roni Horn.
Recently she has written essays on Robert Mangold and Doris Salcedo, both published by Phaidon Press in 2000. Her teaching credits include positions at Princeton University, Yale University, Rhode Island School of Design and Parsons School of Design.
Princenthal is based in New York City