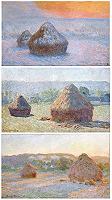 When Claude Monet began to work in series around 1880 he was laying the foundations for a systematic approach to the the subject of art and to pictorial means.

In the 20th century working in series became a recognized method employed by many artists, however the artistic positions and aims of those who use it are varied in the extreme.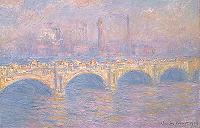 While one artist might build up a complex system in order to obey its laws, another does so in order to break and modify them. For one group of artists the notion of working in series means that all things are different, for another, that everything becomes increasingly similar.
Taking Monet's legendary series as its starting point, the exhibition in the Hamburg Kunsthalle sets out to explore the different motives behind the serial approach to art adopted by 20th century artists. Common motivations and concepts will be presented together in an attempt to clarify the broadly defined notion of the artistic series or cycle.


The spectrum of artists shown in the exhibition extends from Monet to Warhol, Mondrian to Rachel Whiteread, Jawlensky to Allan McCollum. The catalogue essays investigate the historical and cultural backgrounds against which artists began to work in series. Factors such as the advent of industrial mass production and the accompanying development of reproductive techniques will be taken into consideration, as will philosophical issues such as the notion of the whole and its parts, the individual and the collective, perception, space, movement and time.

Artists

Josef Albers · Carl Andre · Bernd und Hilla Becher · Vanessa Beecroft · Tom Bell · Candice Breitz · Sabine Emmerich · Frank Gerritz · Jochen Gerz · Felix Gonzalez-Torres Tamara Grcic · Naoya Hatakeyama · Thaddeus Holownia · Roni Horn · Alexej von Jawlensky · Jasper Johns Donald Judd · On Kawara · Ellsworth Kelly · Jürgen Klauke · Sol LeWitt · Roy Lichtenstein Walter De Maria · Allan McCollum · Piet Mondrian · Claude Monet · Ken Ohara · Roman Opalka · Bernhard Prinz Gerhard Richter · Ed Ruscha · Robert Ryman · Cindy Sherma · Haim Steinbach · Andy Warhol · Marijke van Warmerdam · Rachel Whiteread

Exhibition catalogue DEM 45