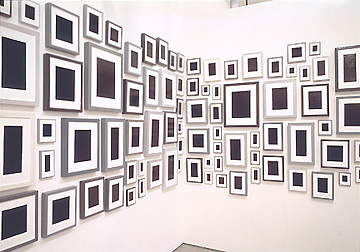 Allan McCollum. Plaster Surrogates. 1982/84.

PUBLISHED BY: Guggenheim Museum
FORMAT: Hardcover, 9 x 10 in./250 pgs / Illustrated throughout. ~ Item E10348
ISBN: 089207308X ITEM: E10348 RELEASE: 2004
AVAILABILITY: In Stock: To purchase directly, click on the ORDER button below. Title ships within 3 to 5 business days. Or click on the STORES button for a bookstore that may have this title.




Art from 1951 to the Present
Essays by Lisa Dennison, Nancy Spector, Deyan Dudjic, Andrea Codrington, John Hanhardt, Mark Taylor, Gia Kourlas and Drew Daniel.
Singular Forms (Sometimes Repeated) examines the impulse toward reduction, restraint, and lucidity in postwar art. Drawing on the Guggenheim's exceptional holdings of minimalist painting and singular sculpture, Singular Forms begins with Robert Rauschenberg's historic White Painting (1951), a stark, monochrome canvas. This seminal work establishes twin trajectories in the development of contemporary art: the elimination of all extraneous details to achieve an art of pure, essential form, and the attention to issues of perception. After a prologue including other examples of radical, monochrome paintings by Ellsworth Kelly, Frank Stella, and Ad Reinhardt, Singular Forms explores how these parallel artistic strategies were manifest in Minimalist and Conceptual art of the 1960s and 70s through the work of Carl Andre, Dan Flavin, Donald Judd, Sol LeWitt, Agnes Martin, and Lawrence Weiner, among others. Minimalism's impact on subsequent generations of contemporary artists begins with Postminimalism, which utilized the movement's deliberate paucity of formal means to explore a range of concerns including process, the dematerialization of the object, the performative nature of art, and the structural properties of light. Artists such as Bruce Nauman, Richard Serra, James Turrell, and Richard Long are included in this section. What follows are artists schooled in the deconstructivist tendencies of Postmodernism--such as Allan McCollum, Robert Gober, Felix Gonzalez-Torres, and Roni Horn--who resuscitated Minimalism as a style, infusing its unitary, nonreferential forms with content to bring to the fore trenchant cultural issues. Singular Forms concludes with recent work that shares the look of classic Minimalist art, but uses it to communicate deeply personal, political, or poetic messages. Also examined is the reach of Minimalism and Conceptualism beyond the visual arts into film, choreography, music, design, and architecture.